Visitors to Form Ghana's harvesting operations are accustomed to hearing the unmistakable sound of chainsaw operators working in our teak plantations. They are in for a pleasant surprise when the harvesting team clad in highly visible safety gear and carrying their industrial chainsaws emerge from the forest at lunchtime.
Regina Gbedaa, Patience Oppong, and Helina Dansowaa are members of Form Ghana's all-female chainsaw squad, working alongside their male colleagues.
At Form Ghana, equality and diversity are among our core values. We take pride in offering equal opportunities to our existing employees and local community members. One of these operators is a current casual employee who seized the chance to learn and excel in a new role. Another discovered the opportunity through a radio announcement, while the third heard about it at a local community information centre.
Our skills development provider, CMO, sent Allan Ogram, their chainsaw specialist and instructor, to train the women. They completed two weeks of intensive training in tree characteristics, felling, debranching and crosscutting and received a Certificate of Competence.
"I was impressed by their attitudes, strength and willingness to learn a skill traditionally reserved for men. They had no problems in handling the saws during a full day's work", says Allan. "Their achievement proves something I always emphasise in my training courses – the ability to safely and productively handle a chainsaw is all about using the appropriate technique for the tree and its location".
The newly skilled operators say they accepted the challenge to be pioneers in a male-dominated profession because Form Ghana believed they would succeed.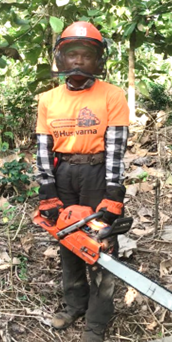 PATIENCE OPPONG
My name is Patience Oppong. I am a native of Berekum and a junior high school dropout.
I joined Form Ghana in November 2022 as a casual fire support worker. I volunteered to attend the chainsaw operator programme, and in May 2023, I was appointed as a permanent Chainsaw Operator.
I am proud to be an employee of Form Ghana because it has provided me with a job and the technical skills and abilities to operate a chainsaw.
By employing me, Form Ghana has helped me send my children to school and buy a plot of land and a sewing machine for my sister.
---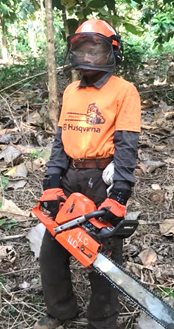 REGINA GBEDAA
My name is Regina Gbedaa, and I am a senior high school graduate. I heard on the radio that Form Ghana was looking for chain saw operators. My application was accepted, and I joined the company in May 2023.
I worked hard during the training programme and learnt how to operate the chainsaw and the importance of achieving my daily target.
Joining Form Ghana was my best decision because it has helped me rent accommodation and send my siblings to school.



---
HELINA DANSOWAA
I am Helina Dansowaa, and I was born and raised in Berekum. After junior high school, I worked as a seamstress when I heard at the community information centre that Form Ghana was looking for women interested in learning how to use a chainsaw.
Form Ghana and Allan Ogram taught me various chainsaw operating techniques, like how to hold the chainsaw and cut a tree to fall in the right direction. I know how to debranch trees and crosscut logs to specified sizes.
I want to thank Form Ghana for employing me and creating opportunities for me and other community members.