"The safety, health and well-being of Form Ghana's employees and contractors are not negotiable," says Willem Fourie, the CEO. The company's Health and Safety Policy forms a significant component of employee induction, and safe work practices are underscored by Toolbox Talks every morning and a stringent skills training and refresher course system.
Form Ghana's management team proactively identifies health risks beyond on-the-job safety that could harm the company's operations and cause reputational harm to their employees and their families.
Food hygiene interventions
Food and water contamination could make employees ill, causing absenteeism, and, in extreme cases, could be fatal. Recently, the District Environmental Health Officers and Form Ghana's health team jointly inspected the food preparation premises of food vendors who sell and handle food on-site.
Form Ghana's Occupational Health and Safety Officer, Site Nurses and Health and Safety Assistants educated the food handlers and sellers about hygiene, safety and ways to control and prevent food contamination and cross infections.
Personal hygiene programme
As part of the preventative measures, the chemical sprayers, manual weeding teams, monitoring teams, engineering workshop staff, stores, janitors, and management staff were trained on personal hygiene infield and at the mustering site. This education aimed to address ill-health cases linked to hygiene as a risk factor.
Hand tools safety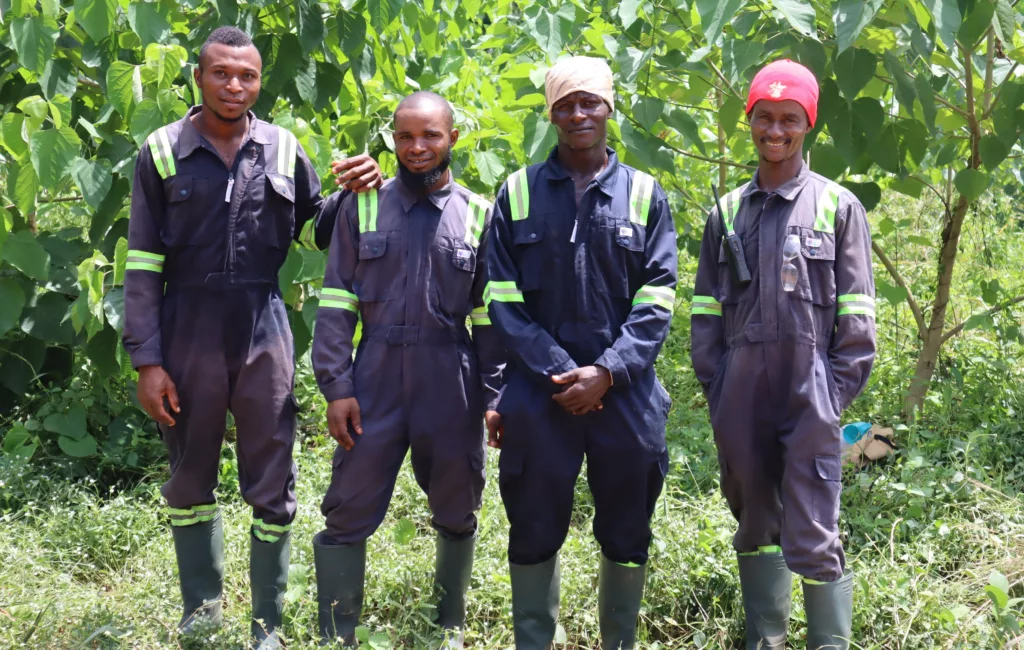 The weeding team was trained to maintain their hand tools and ergonomics and safe techniques for slashing saplings/ shrubs and other problematic weeds.
Vehicle maintenance training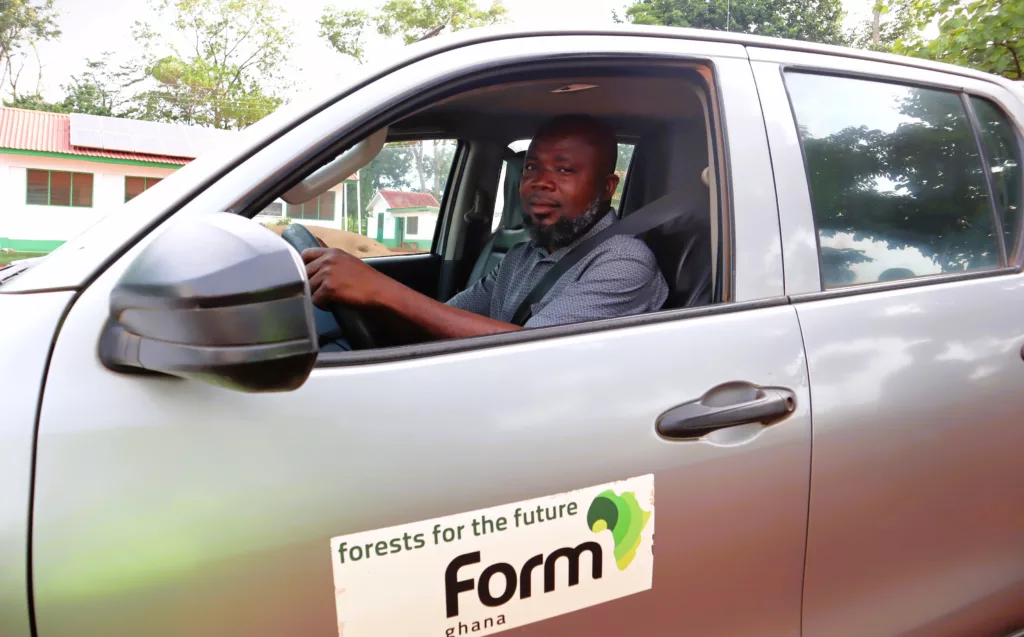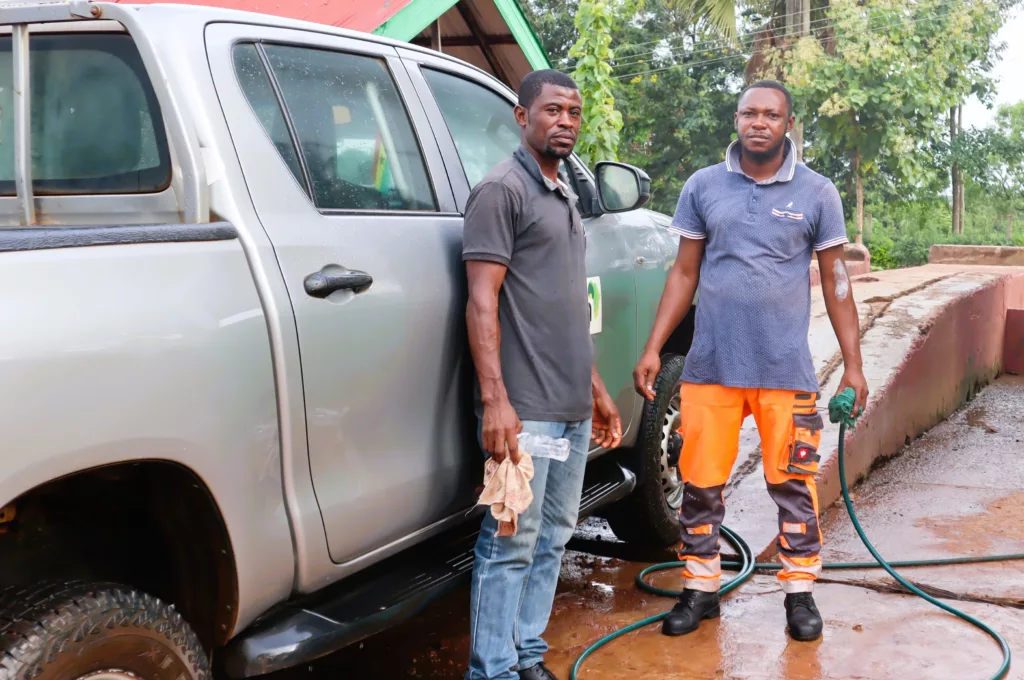 Form Ghana's drivers are exposed to extreme hazards in a country with poorly maintained roads, dangerous road users, cyclists, motorcycles, animals and pedestrians. They regularly attend training in risk assessment and defensive driving techniques in various conditions. The drivers were recently trained on the importance of tyre inspections and safety when changing a tyre.
Form Ghana recently appointed two new professional Site Nurses to assist in educating employees about health and safety at work and home, safe work practices, HIV/Aids, malaria, and conduct first aid training. They are both registered with the Ghana Registered Nurses and Midwives Association.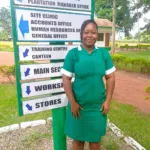 Freda O Kwarteng is the Site Nurse at Akumadan. She holds a Diploma in General Nursing and gained extensive experience at St John of God Hospital in Bono Region.
"I am impressed by Form Ghana's attention to their employee's health and well-being. Employees feel happy coming to the clinic", Freda remarks.
---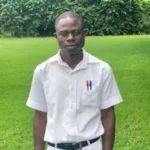 Edward A. Atia is based at Berekum. He has a first-class BSc degree in nursing and is a registered nursing practitioner. He brings experience from the Korle-Bu Teaching Hospital, Pantang Psychiatric Hospital in Greater Accra, and the Wa Municipal Hospital in the Upper-West Region.
"I delight in educating employees on health issues, for example, food and personal hygiene as preventative means of controlling ill-health", Edward says.
Form Ghana is responsible to its stakeholders to identify and solve all complaints and grievances appropriately, timely and fairly. Where possible, we focus on dialogue to address and resolve grievances.
The comprehensive Complaint Response Mechanism (CRM) demonstrates that the company has taken the appropriate steps to address the issue, protect the complainant where possible, try to find a win-win solution, and has been fair, impartial and ethically professional in our approach.
Internal Complaints
Form Ghana implements a comprehensive set of employment and employee-related policies, procedures and Safe Operating Practices (SOPs) that protect their and the company's rights regarding work, working conditions and relationships with colleagues. Broadly, the CRM:
Outlines what constitutes a workplace grievance to communicate a clear definition to employees
Identifies a step-by-step procedure for seeking a resolution to the workplace grievance
Sets out a process after arriving at a resolution
Sets out an appeals mechanism and escalation protocol
External Complaints
External complaints can have a variety of origins. Complainants can roughly be categorised as follows: intercropping farmers, members of surrounding communities, pastoralists residing near the project area, Government bodies (local, regional and national), service providers, NGOs, and others.
Stakeholders can express their complaints at stakeholder meetings, community meetings, intercropper/outgrower meetings, focus group discussions and one-on-one sessions. If the complaint is not solved in the forum, the complaint is escalated to the Environment and Social (E&S) Manager, who implements the formal CRM procedure.
There are several methods for external stakeholders to inform Form Ghana about their dissatisfaction. It includes:
Raising the issue publicly at community meetings, sensitising sessions, intercropper/outgrower meetings, and focus group discussions
One-to-one with Form Ghana's E&S Manager Paul Ontoaneyin
Register the complaint electronically at www.formghana.com
Send an email to the address posted on community notice boards relations@formghana.org.
Use Form Ghana's telephone hotline numbers found on community notice boards
Use the phone number on Form Ghana's vehicles 055-1552227.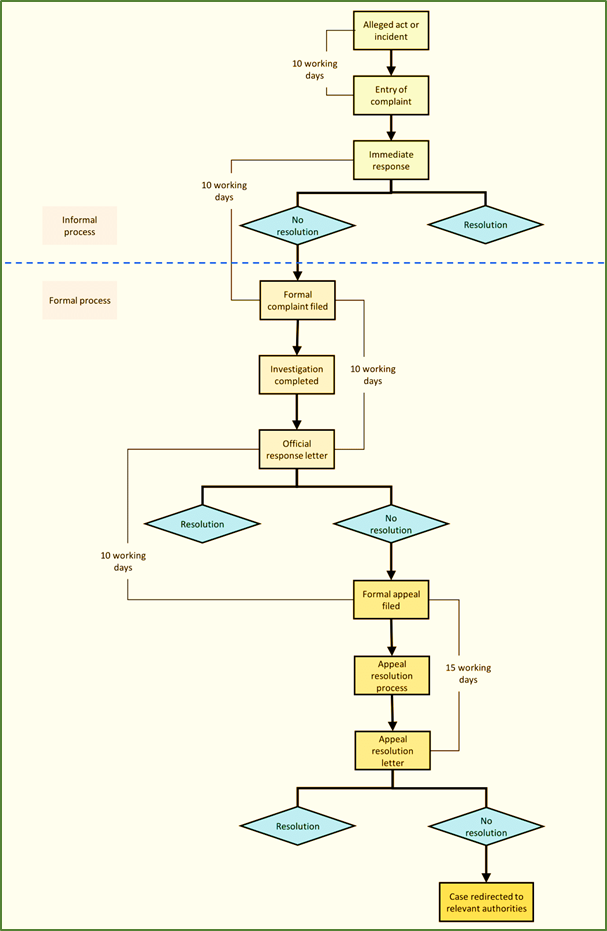 Businesses do not operate in isolation. They exist within a complex web of relationships and interactions with various stakeholders, each with a personal stake in the company's activities. For Form Ghana, stakeholder engagement is not just a corporate responsibility but a fundamental aspect of our approach to responsible and sustainable forestry management.
Our stakeholders are as diverse as the ecosystems we manage. They encompass government departments, our Board, private investors and donors, staff, traditional landowners, fringe communities, service providers, labour unions, farmers, intercroppers, certification organisations and environmental NGOs. Each group plays a unique role in shaping our operations and, consequently, our long-term success.
However, the communities and landowners surrounding our forests hold a special place in our stakeholder engagement strategy. They are on the front lines, experiencing the impacts of our activities daily.
Open communication
One of the critical pillars of our stakeholder engagement approach is establishing open and transparent lines of communication. To achieve this, we follow accepted protocols to organise regular stakeholder meetings that are carefully planned and communicated well in advance. These meetings are held at churches and town halls accessible to everyone. Transport is often arranged to assist groups to participate.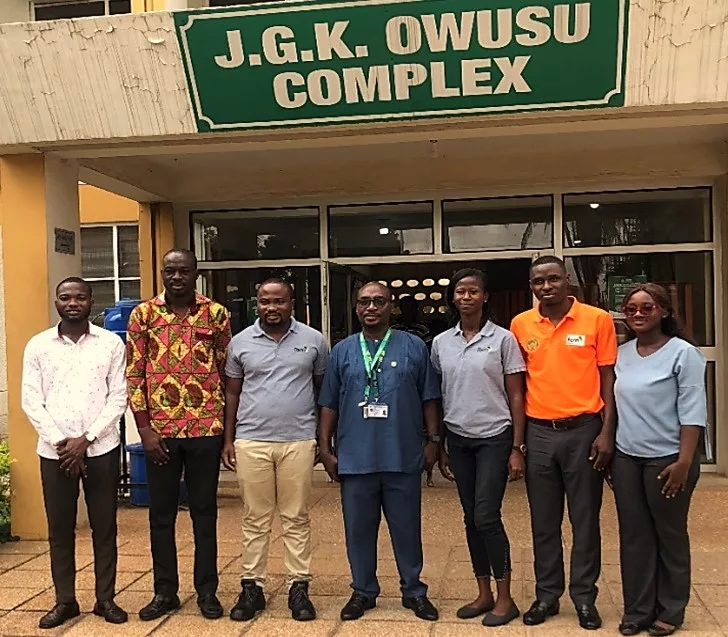 The agenda includes feedback on matters arising from the previous meeting and new topics that may have emerged since the last gathering. We encourage stakeholders to voice their concerns about issues within our scope, ask questions, and share their views on our operations. We also use the opportunity to identify community projects for which funds are available.
These discussions are essential for building mutual trust and ensuring we remain accountable to our stakeholders. The minutes of these meetings are available at our offices, ensuring transparency and accessibility for all interested parties.
Complaints mechanism
We understand that complaints and grievances may arise from time to time. Our stakeholder engagements encourage individuals or groups to express their grievances and complaints during our meetings. If, for any reason, a resolution cannot be reached during the meeting, we request that these concerns be put in writing. It formalises the complaint and activates Form Ghana's formal Complaint Response Mechanism (CRM), ensuring a structured and timely resolution process.
Sensitisation sessions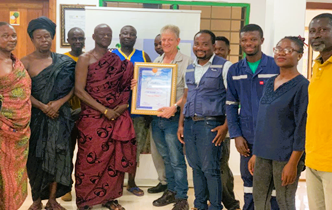 In addition to our regular stakeholder meetings, we recognise the importance of keeping our stakeholders well-informed about our objectives, projects, and operations.
To achieve this, Form Ghana conducts regular sensitisation meetings. "Sensitisation" means making people "sensitive" about an issue. This is the core of our awareness-raising process.
These sessions educate our stakeholders about our activities and provide a platform for addressing their expectations and concerns. Examples of the topics covered include fire prevention, illegal activities, health and safety, best agronomic practices, work opportunities and offering a platform for suggestions and registering complaints.
Beyond corporate responsibility
Stakeholder engagement is not just a corporate responsibility; it is a fundamental aspect of our approach to sustainable forestry management and creates a stronger, more resilient foundation for our operations.
As we move forward, we remain dedicated to strengthening our stakeholder relationships and ensuring that our forestry practices benefit the environment and the communities we serve.
Every year, Form Ghana recruits and selects one or more groups of young graduates to participate in its Management Training Programme.
The trainees are monitored and mentored throughout the period and exit the programme with experience working in and managing teams. They also understand the contribution of sustainable forest management in mitigating climate change.

TRAINEE FEEDBACK

By: Agyewaa Faustina, Gideon Appiah, Adam Osman, and Thomas Baidoo

"We eagerly joined Form Ghana in 2023 as Management Trainees. Embracing this great opportunity, we were introduced to a structured trainee programme that provided us with valuable experience in communication and problem-solving skills.

"In addition to practical knowledge gained in various silviculture and harvesting operations, we assisted senior managers in carrying out plantation management activities.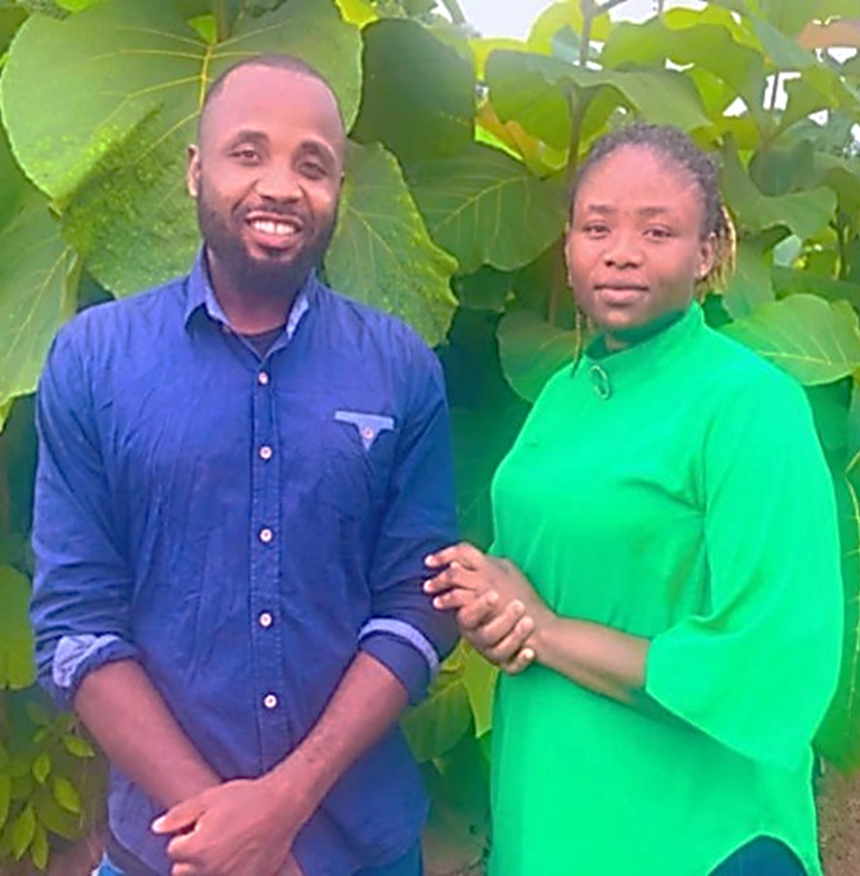 "Our journey as Management Trainees at Form Ghana has been extraordinary. We have grown personally and professionally, acquiring vital skills, embracing challenges, and contributing to the company's success.

We are confident that the practical knowledge and experience gained during our trainee programme will contribute significantly to our effectiveness as employees in Form Ghana. Thank you, and long live Form Ghana!"
Samuel (Sammy) Ampofo Owusu has recently been appointed Executive Assistant to Form Ghana's CEO. As an integral part of the leadership team, the Executive Assistant plays a vital role in supporting the CEO and ensuring the smooth functioning of the organisation.

Sammy has a BSc in Accounting and an MBA in Finance. He joined Form Ghana in November 2012 after completing his national service. "I chose Form Ghana because I wanted to contribute to an exciting, forward-thinking and fast-moving company in an important industry", he says.

"I am a meticulous accountant versed in audit coordination and execution. Over the years, Form Ghana has allowed me to adapt to various job roles", Sammy explains. He says the experiences have developed his abilities to multitask, think critically, meet strict timelines and provide accurate reporting.

"As the Executive Assistant, I will focus on corporate governance, ensuring strict compliance with applicable laws and meeting all investor requirements. My previous experience in the company has deepened my understanding of working with external stakeholders.

"It has also deepened my communication skills with the various departments within the company and enhanced my time management skills, which will greatly impact my success in this new role".

Sammy believes Form Ghana's focus on good corporate governance will allow it to take advantage of new opportunities that arise.

"Form Ghana's operations are increasingly moving into the digital space where banking, harvesting and operations are managed electronically or by machines. This means we must ensure our staff are upskilled and digitally dexterous".

He advises aspiring professionals seeking senior management positions to be focused, dedicated, committed, involved, consistent and hardworking.
In 2007 Ghana's Forestry Commission and Form Ghana drew up and signed the country's first forestry public-private partnership (PPP), laying the foundation for other PPPs to enter the sector. Form Ghana's mission is to work closely with traditional leaders, district assemblies and fringe community chiefs, queen mothers and elders to sustainably rehabilitate, reforest and manage its leased forest reserves.
Paul Ontoaneyin manages Form Ghana's Environment and Social (E&S) Department, assisted by E&S Officers Bismark Manu Adjei and Evelyn Affreh. Ontoaneyin describes the relationship between the company and the villagers living on the boundaries as "mutually beneficial".
Open and sincere
Ontoaneyin says, "Our activities impact the fringe communities, and we don't make decisions without consulting them first. Over the years we have established an open and sincere relationship".
It is illegal for farming and logging to happen on Ghana's forest reserves. "However, Form Ghana's negotiations with the Forestry Commission lets the company sign agroforestry agreements with farmers from its fringe communities," explains Ontoaneyin.
"We regularly meet with community leaders and farmers to discuss their needs and identify and solve problems that fall within the scope of Form Ghana's agreement with the Forestry Commission.
"By involving the Forestry Commission and traditional and community leaders in decision-making, we promote inclusive and participatory approaches to sustainable development.
"If a problem raised by a community is beyond the company's control, we liaise with the Forestry Commission, relevant government departments and organisations and facilitate a solution. I believe maintaining open communication promotes transparency, trust, and a sense of ownership and shared responsibility".
Form Ghana's head office is in Sunyani, 370km northwest of Accra. It leases 19,467ha of degraded land in Berekum and Akumadan. Berekum is in the Bono Region, 37km from Sunyani, and Akumadan is 74km by road in the Ashanti region. It has established a 9007ha teak plantation at Berekum and 3447ha at Akumadan. The company has restored over 2000ha of the indigenous forest through enrichment planting and reforestation.
Teak and Gmelina
The company specialises in teak (Tectona grandis) from provenances sourced in Brazil, Ivory Coast, Costa Rica and elsewhere. However, it recently planted an experimental plot of Gmelina (Gmelina arborea). Both are deciduous hardwoods belonging to the Verbenaceae family.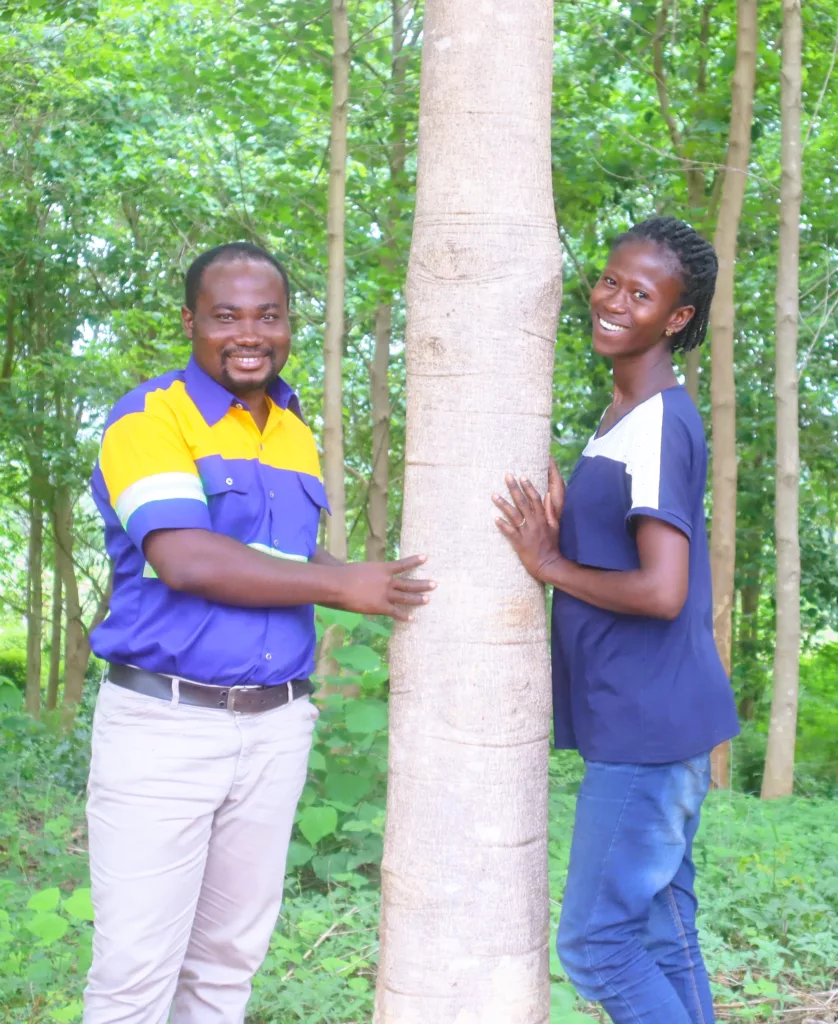 Matthew Essuman, the commercial manager, says Form Ghana's growth and yield modelling indicate that Gmelina grows faster than teak under ideal conditions, which means it can be harvested and re-planted sooner. "We are working with our silviculture researchers and stakeholders to determine the best provenances and sites that will deliver products meeting their specifications", he says.
Seedlings
Form Ghana's nursery is located at Akumadan. It can produce 3,5m teak and 400,000 indigenous seedlings and cuttings of more than 11 species annually.
Afia Yeboah is the plantation manager at Berekum. She, Ontoaneyin, Mariam Awuni, the human resources manager and Essuman are part of the team coordinating Berekum's silviculture and harvesting regimes.
Yeboah says before planting, women from the fringe communities collect fuel wood. After that, the site is burned on a day when the fire-danger index is low and monitored to determine when the soil is ready for cultivation.
The boundary of the planting blocks is measured and demarcated with baseline timber pegs. The blocks are adjacent to or near forestry roads to ensure access for the farmers and Form Ghana's monitoring and firefighting teams. The blocks are further demarcated with bamboo pegs at 3x3m intervals.
Taungya system
"We use a modified form of Ghana's Taungya System that involves agroforestry and inter-cropping practices", Yeboah says.
Expanding on the subject, Ontoaneyin explains that "We inform the 150 farmers who have signed an agreement with us when planting conditions are ideal. They and their employees use the roads we have made in and from their communities to cultivate and tend cereals, grains and other short-term food and cash crops".
In addition to introducing maise, cashew, cocoa and teak inter-cropping, demonstration farms (research plots) have been planted with cassava, plantain and okra, with technical support from Ghana's Food and Agriculture Ministry.
By the time the crops are ready for harvesting, the plantation trees have grown. They are hardy enough to withstand weather conditions and competition from weeds.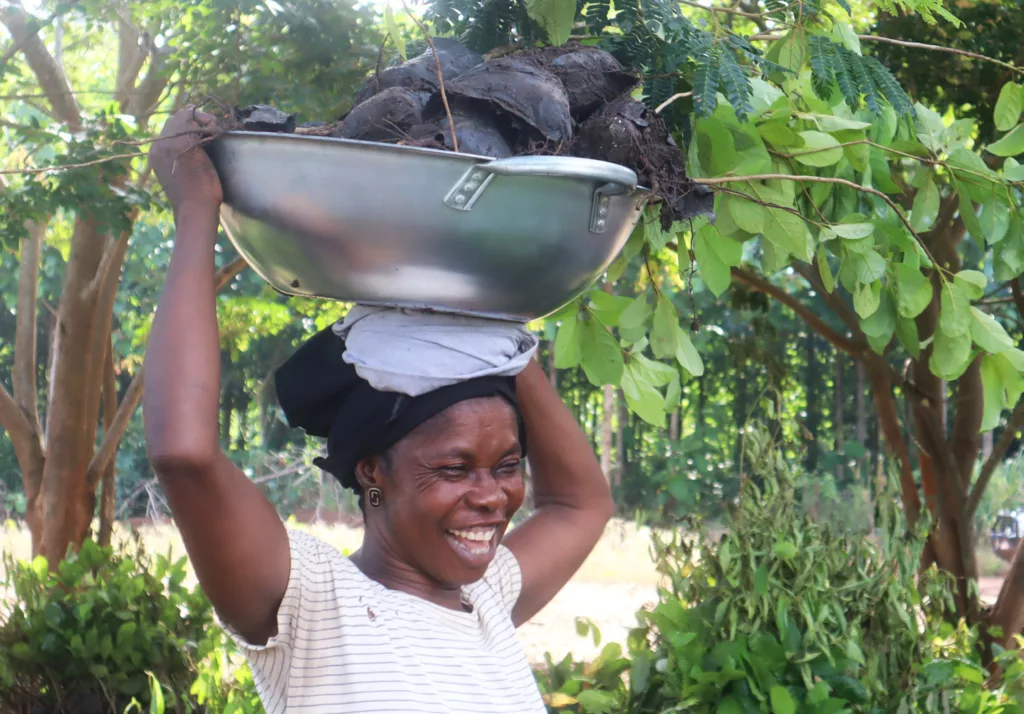 Indigenous seedlings
When the truck of indigenous seedlings arrives at Berekum, they are unloaded, watered and then hardened off to lessen the shock of planting. The plastic bags are carefully removed during planting, and the seedlings are placed in prepared holes in demarcated blocks. Inter-cropping also takes place in indigenous areas.
Teak stumps
Although the Berekum plantation has no formal nursery and receives seedlings from Akumadan, it also uses a moving or dry silviculture system. Teak seeds are planted, and after eight months, a harvesting team slashes the stems and uses pickaxes to uproot the plants.
The exposed roots are gathered and taken to a group of dexterous women who use knives to carefully remove the sprouting roots. They measure the stumps four roots down from the collar and cut them, leaving the bottom part of the root or stump.
The planting teams dig a hole next to each peg, and the teak stumps are planted to expose about 2mm of the tip. They use their feet to compact the soil to ensure that rodents don't dig up the stumps.
Fire prevention
Through comprehensive training programmes, farmers and community firefighting teams are given the necessary skills, a mobile phone, and personal protection and firefighting equipment to manage controlled burns and for firefighting.