Form Ghana recently appointed two new professional Site Nurses to assist in educating employees about health and safety at work and home, safe work practices, HIV/Aids, malaria, and conduct first aid training. They are both registered with the Ghana Registered Nurses and Midwives Association.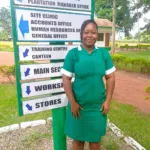 Freda O Kwarteng is the Site Nurse at Akumadan. She holds a Diploma in General Nursing and gained extensive experience at St John of God Hospital in Bono Region.
"I am impressed by Form Ghana's attention to their employee's health and well-being. Employees feel happy coming to the clinic", Freda remarks.
---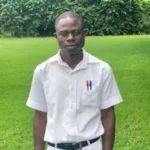 Edward A. Atia is based at Berekum. He has a first-class BSc degree in nursing and is a registered nursing practitioner. He brings experience from the Korle-Bu Teaching Hospital, Pantang Psychiatric Hospital in Greater Accra, and the Wa Municipal Hospital in the Upper-West Region.
"I delight in educating employees on health issues, for example, food and personal hygiene as preventative means of controlling ill-health", Edward says.
Samuel (Sammy) Ampofo Owusu has recently been appointed Executive Assistant to Form Ghana's CEO. As an integral part of the leadership team, the Executive Assistant plays a vital role in supporting the CEO and ensuring the smooth functioning of the organisation.

Sammy has a BSc in Accounting and an MBA in Finance. He joined Form Ghana in November 2012 after completing his national service. "I chose Form Ghana because I wanted to contribute to an exciting, forward-thinking and fast-moving company in an important industry", he says.

"I am a meticulous accountant versed in audit coordination and execution. Over the years, Form Ghana has allowed me to adapt to various job roles", Sammy explains. He says the experiences have developed his abilities to multitask, think critically, meet strict timelines and provide accurate reporting.

"As the Executive Assistant, I will focus on corporate governance, ensuring strict compliance with applicable laws and meeting all investor requirements. My previous experience in the company has deepened my understanding of working with external stakeholders.

"It has also deepened my communication skills with the various departments within the company and enhanced my time management skills, which will greatly impact my success in this new role".

Sammy believes Form Ghana's focus on good corporate governance will allow it to take advantage of new opportunities that arise.

"Form Ghana's operations are increasingly moving into the digital space where banking, harvesting and operations are managed electronically or by machines. This means we must ensure our staff are upskilled and digitally dexterous".

He advises aspiring professionals seeking senior management positions to be focused, dedicated, committed, involved, consistent and hardworking.
Alexander Amoako is the new Harvesting & Technical Manager, always ready for new challenges.
Alex was appointed Monitoring Supervisor in 2014, a year after joining Form Ghana as a Management Trainee. He was responsible for monitoring plantation and nursery operations, FSC certification and community engagement.
"In 2018, I was appointed Monitoring Research and Development (R&D) Officer. I gained extensive experience in managing R&D activities, FSC certification, growth and quality monitoring of plantation operations, and implementing fire management plans", he explains.
The R&D role enhanced his analytical and planning skills. "I have much experience with forest certification and assisted with environmental and social (E&S) management", he says.
In March 2022, Form Ghana appointed Alex to the position of Harvesting Forester to manage the harvesting operations of the company. As an experienced researcher and planner, he focused on planning and improving harvesting productivity.
"I am proud to be the Harvesting and Technical Manager now. I oversee all aspects of Form Ghana's harvesting operations. This new role is a significant step in my career development in forestry.
I look forward to learning new things and using my experience and technical skills to make Form Ghana's harvesting operations profitable for the company and our investors".
Afia Yeboah Bediako joined Form Ghana as a Management Trainee in 2014. In 2015 she was appointed Management Assistant and led silviculture teams in establishing plantations and managing forest fires.
Her people management skills and attention to detail were recognised, and in 2016 she was appointed Human Relations Assistant. It wasn't long before she accepted the HR Coordinator and HR Officer roles. Afia says it helped grow her problem-solving, interpersonal, and general communication skills.
"I was responsible for recruiting and inducting staff, students and interns to ensure they understood the company policies and procedures. Employees turned to me with their concerns, which helped me learn to resolve conflicts while improving employment policies and procedures", Afia explains. "I see my new role as Plantation Manager at Berekum as challenging and exciting because it involves managing people and our resources. This position will help advance my career as a forester and natural resource scientist".
Matthew Essuman was recently promoted to the position of Commercial Manager.
He joined Form Ghana in 2013 as a Management Trainee. The company recognised his drive for self-development and willingness to work hard and gave him opportunities to acquire new skills and experience through the various levels of management.
"My managers offered me the opportunity to develop a career path. They encouraged me to develop skills in decision-making and planning, coaching and developing team members, conflict resolution and engaging with our community partners", Matthew explains.
Over the years, as Matthew's responsibilities grew, he progressed from Management Trainee to Management Assistant, Plantation Supervisor, Silviculture Forester, and later the Plantation Manager.
"I am very grateful and happy regarding my new appointment as Commercial Manager. It gives me a fantastic opportunity to continue to grow and add value to the company.
"I am involved in implementing our commercial strategies and managing the associated risks while marketing and selling our teak logs and growing our carbon credits market. In addition, the position requires good communication skills to deal with our stakeholders at various levels, such as the Forestry Commission and our customers. God bless Form Ghana for the commitment to developing your employees".